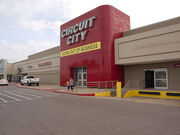 Circuit City Stores, Inc. (former NYSE ticker symbol CC) was an American multinational consumer electronics corporation. It was founded in 1949 and pioneered the electronics superstore format in the 1970s.[1] Circuit City liquidated its final American retail store in 2009, following a bankruptcy filing and subsequent failure to find a buyer.
At the time of liquidation, Circuit City was the second largest U.S. electronics retailer, after Best Buy. There were 567 Circuit City Superstores nationwide, ranging in size from 15,000 to 45,000 square feet (1400 to 4000 m²), when the company announced total liquidation.
The "Circuit City" brand was then bought by Systemax, Inc., which used the brand to sell electronics and media as an online retailer, CircuitCity.com, until late December 2012, when the website was merged with TigerDirect.
Community content is available under
CC-BY-SA
unless otherwise noted.